El gobierno de USA ha redactado un proyecto de ley cuyo objetivo es el acta de control de superheroes, donde todo aquel que quiera actuar en territorio estadounidense deberá estar inscripto en dicha acta, revelando identidad y datos personales... recibiendo un aporte monetario a cambio de su servicio y estará bajo la supervigilacia de S.H.I.E.L.D. Actuar fuera del acta se considerará un delito federal y se le perseguirá con la fuerza necesaria, incluso mandado otros superheroes contra él.
Antes de leer esta saga, les recomiendo enterarse de lo sucedido en "Vengadores Desunidos", "House of M" y "Thor: Ragnarok".
Hay algunos números que deben renombrar a .CBR para poder abrirlos.
Password para los packs:
www.wareztotal.com.ar
Tamaño total de la saga:
1,21 GB
Road to Civil War
(Incluye: Fantastic Four 536 y 537, Spider-Man 529 a 531 y New Avengers: Illuminati)
Civil War
Front Line
The Amazing Spider-Man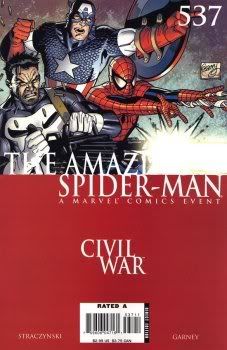 Wolverine
Fantastic Four
Iron Man
Captain America
New Avengers
Thunderbolts
X-Factor
X-Men
Young Avengers & Runaways
Black Panther
Cable & Deadpool
Heroes For Hire
Ms. Marvel
Punisher: War Journal
Moon Knight (Casualties of War)
Ghost Rider (Casualties of War)
Especiales y "one-shots"